Brownies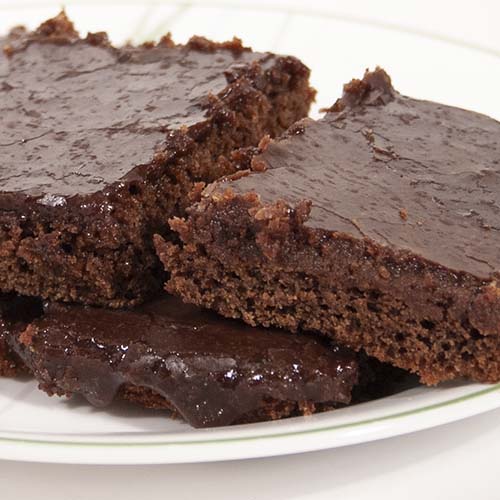 Recipe - Aunt Ruby's Brownies
Thirty years ago my wife and mother created a cookbook for the family that contained some of my mother's favorite recipes that she had accumulated over the years. 
My aunt first made these for me more than forty years ago. This recipe is one of my favorites. 
Aunt Ruby's Brownies
Brownie batter
1/2 cup butter
1 cup sugar
4 eggs
1 teaspoon vanilla
1 can chocolate syrup (1 1/2 cups)
1 cup sifted flour
1/2 teaspoon baking powder
1/4 teaspoon salt
1/2 cup chopped nuts (optional)
Topping mixture
6 tablespoons butter
6 tablespoons milk
1/2 cup semisweet chocolate chips
1 cup sugar 
1 teaspoon vanilla
Making the brownies
Preheat oven to 350 degrees. Cream together 1/2 cup butter and 1 cup sugar until light and fluffy. Beat in eggs and 1 teaspoon vanilla. Blend well. Stir in chocolate syrup. In a bowl, sift together the flour, baking powder and salt.  Stir sifted ingredients into the chocolate mixture. If desired, add walnuts. Pour into a well greased 15 1/2" x 10 1/2" x 1" pan. Bake at 350 degrees for 22 minutes. Check with a toothpick to make sure the center is done. Cool in pan on wire rack. 
Making the topping
Combine 6 tablespoons butter, milk, and 1 cup sugar in saucepan. Bring to boil. Boil for 30 seconds. Remove from heat, add chocolate bits and 1 teaspoon of vanilla. Stir thoroughly. Allow the mixture to cool some. You want to still be able to pour it and spread it but if you do it while it's too hot it will only sink into the brownie and not stay on the upper part of the brownie. Spread over brownies. Cut. 
Enjoy!